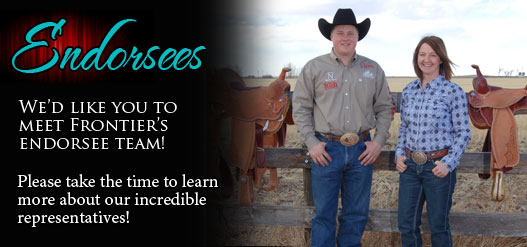 Frontier would like to introduce you to four of our current endorsees, Raylee Edwards, Chase Simpson, Dave Poulsen and Dave Fraser. These four individuals have had tremendous success over the years in their respective events. They are some of the nicest and most respected individuals that you could meet on the rodeo circuits today. Please take the time to read more about these incredible representatives of Frontier!
Those of you who follow the barrel racing industry are certainly familiar with the Walters family name. Raylee Edwards (Walters), 2003 Canadian Champion and CPRA Cowgirl of the Year, came on board with Frontier saddles in 2007. Raylee and her sister Rana (Koopmans, also a past CPRA Cowgirl of the Year and 2010 Canadian Barrel Racing Champion) are currently both ambassadors for Cactus Gear Products in Canada. Those of you that have had the opportunity to speak with either of these sisters agree they are some of the most positive, upbeat athletes in the barrel racing industry today. They are extremely approachable and always willing to lend a hand when they can. A perfect match in line with Frontier's ambassador guidelines.

We worked very closely with Raylee in 2010 to produce the Frontier Raylee Racer with the exact feel she was looking for. We are proud to say we have accomplished this! The New Frontier Raylee Racer includes features like higher profile swells, deeper seat, super round cutaway skirt and forward hung fenders. We feel Raylee and Frontier have designed a saddle together that is a leader in the barrel saddle industry with regards to feel, fit and craftsmanship. We have had some very positive feedback and results with this saddle, including NFR barrel racing qualifiers purchasing these saddles.

Raylee recently stated, "I am loving this new saddle and loving the fact that if a fellow barrel racer sits in it they love it too! The feedback has been great! The feel and fit are exactly what I was looking for and the workmanship has been appreciated by some of the best in the industry. I am just really proud of it and the people who have taken notice speak very highly of it." Page 8 of our new 2016 Spring Catalogue explains all the features of the New Frontier Raylee Racer including the Lifetime Warranty that Frontier offers on all 15X and 20X Saddles. Watch for Raylee competing in the Canadian Professional Rodeo circuit and Barrel Racing futurities this year on her Frontier Raylee Racers.
Chase and the Simpson family are a staple here in the Claresholm, Alberta area. Generations of Simpsons have supported Frontier over the years and it was a natural fit for Chase to be a formal Ambassador of Frontier. We are confident Chase will agree that he was a customer of our store long before he joined the Frontier Ambassador Team. This in itself makes Chase a valuable asset to our team. It is just an added bonus that Chase is an extremely talented header and heeler in the Canadian Professional Rodeo Association circuit. He has had tremendous success over the years including a highlight in 2010 when he received the title of Canadian Champion Header. The Simpson family has been competitively roping for generations and it truly shows with the talents that Chase and his brother Levi have. He switched to the heeling side for 2013 so look for him on the Canadian Professional Rodeo Trail and at open ropings riding our Frontier 20X Roper with a Billy Hogg Tree.
Dave is an accomplished children's book author and CPRA rodeo announcer. Like Chase Simpson, Dave has been a long time supporter of Frontier Western Shop. Dave and his wife Barb live just west of Claresholm in the Foothills. Dave has an incredible commentary talent. He received the coveted award of being the 2008 CPRA Rodeo Announcer of the Year. We utilize Dave's unique ability in our on hold messaging and voice over productions for Frontier. Learn more about Dave at

www.davidpoulsen.com

. Like all of our endorsees, Dave is a great individual that would just love to take the time and visit with you. Dave is outfitted courtesy of Frontier Western Shop on the rodeo road! *Announcing picture: Mike Copeman Photography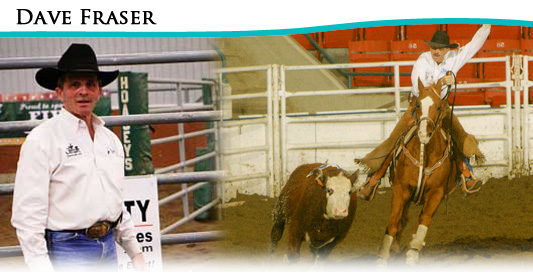 Last but certainly not least, is our longest standing Frontier Ambassador, Dave Fraser. Dave is an extremely accomplished team penner, team roper and event producer. Dave has produced some of the best team pennings and team ropings Canada has to offer right here in Claresholm. He lives south of Claresholm and he too has been a long time Frontier supporter along with his wife Denise. Dave rides nothing but Frontier saddles and has so done for years. Dave uses both the Frontier 20X Versatility Saddles

and the 20X Roping saddles. He is also a Cactus Ropes Canada Ambassador. We are proud to have Dave on our Frontier team.