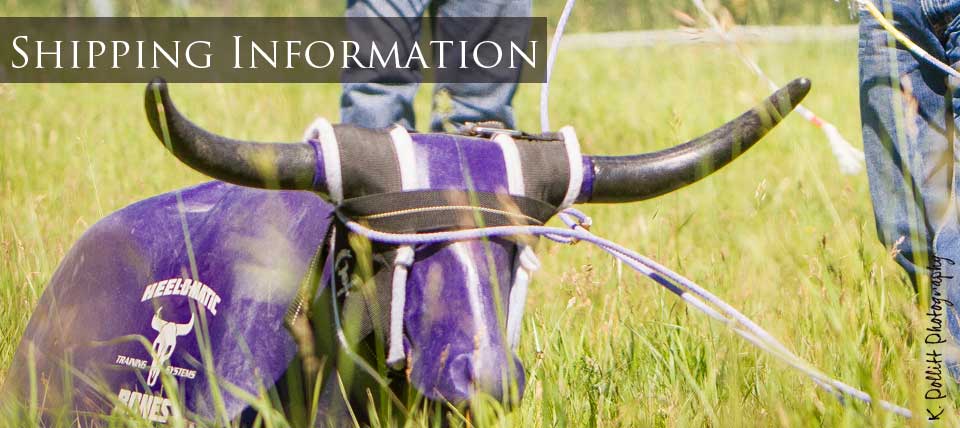 Frontier Western Shop Shipping Policies
Frontier Western Shop is happy to offer our Canadian customers "FREE SHIPPING" for all online orders of regular price in stock items with the exception of sale items, oversize items and minimum quantity items. Products that are oversize do not qualify for free shipping and will be identified in the item description as "oversize and not eligible for free shipping". These will be items such as roping dummies, training flags and whips, large stable supplies and racking, bedding sets, pole bases and pop up barrels, gun scabbards and pack boxes, to name a few. Ropes are a minimum quantity item and 3 or more must be purchased to qualify for free shipping.
Kindly allow 7-10 working days for delivery to a valid address within Canada and the United States via Standard Canada Parcel Post. If you require your order faster than standard shipping, we have other options for you at great shipping rates. Please call for an accurate shipping quote on oversized items. Additional duties and taxes may apply to cross border orders.
At Frontier Western Shop, we strive to deliver your orders in the quickest, most efficient method possible. The shipping method you select and the final destination, along with the type of item and its availability, are the key determining factors in how long it will take for you to get your order and how much it will cost to get there. For your benefit Frontier has reduced shipping rates with Canada Post. All packages are insured and traceable within Canada and the USA, unless specified at the time of order. **Dishes, glassware and liquid product are ship at your own risk, we are not responsible for any damages that may occur during shipping.
Payment Terms:
Applicable Provincial sales tax will be added to prices. Use your PayPal account, Master-Card, or Visa and be prepared with the card #, expiration date, CVD security code and full name on the card.
International Orders:
Prices on this website are listed in Canadian Dollars. All orders and invoices are shown in Canadian Dollars. Orders are processed on the date of shipping and that day's exchange rate is used. Please review your credit card statement for the charge in US or Foreign Currency. Customer is responsible for any and all related taxes or import duties for shipping outside of Canada. International orders are shipped directly from Claresholm, Alberta, Canada and are not subject to Canadian federal tax (GST).
Currently our online store will accept orders shipping to the following countries:
Austria
Australia
Canada
Italy
Germany
New Zealand
United States
If you would like to ship to a country other than the above, please contact us by phone to make arrangements.
Most* international callers (outside North America) dial: 00 1 403-625-2777
*Click Here to find out how to call Canada from your country.
Error Notice:
We have made every effort to avoid errors in the catalogue and on our website. Despite our efforts a price, description or photo may sometimes be incorrect. If this happens, you will be notified of changes before we ship to you. Some pictures may vary slightly from the description. Prices may change without notice.